Managed Cloud Solution Case Study: EMPERIO Gold and Silver Coins Cloud System
Tailor-made the most suitable cloud solution
2021-11-29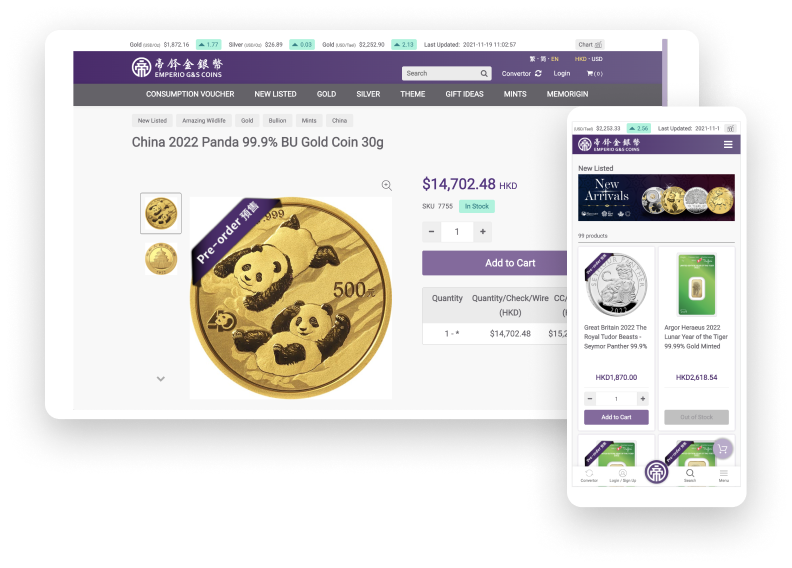 The flexibility of cloud service arouses the interest of enterprises and makes it popularly adopted. EMPERIO Gold and Silver Coins (EMPERIO) intends to transfer its server to cloud server. Considering the products featured are valuable and the cybersecurity concern, they have looked for supplier that they can trust for implementing an effective cloud solution.
Client Background
Client
EMPERIO Gold and Silver Coins
Challenge
Since cloud hosting has become an essential for business development, our client realised that it is the time to move on from dedicated servers at the office to cloud hosting for the flexibility. They are looking for a holistic integrated cloud solution, which includes architecture design, data migration, and server hosting to transfer the entire system to cloud server.
There are various cloud solutions on the market. But the service items are fragmented where client needs to sort it out one by one, wasting manpower and cost.
UD Solution
Assigned dedicated project manager to fully understand the customer's business needs and requirements.
Designed custom cloud server architecture that is suitable for web hosting with content management systems, shopping carts, personal data and other resources.
Improved cloud security settings to ensure the system is invulnerable to cyber threat.
Round the clock monitor to ensure efficient operation of the system.
Achievement
Tailor-made cloud system that effectively enhances business development
One-stop billing management that helps reduce the administrative procedures which client needs to deal with
Client is care-free with round the clock UD technical support
3 Keys to Success
1. Real one-stop service

UD's comprehensive services include architecture design, system performance monitoring, and technical support. With years of experience, UD team understands the technical needs of client and is well-prepared for different situations.

2. Simple and transparent pricing and billing

Generally, cloud service providers will charge item individually with separate accounts and bills which involves tedious administrative procedures. UD integrates different service accounts and flows in one single bill. Client will be charged according to usage with no hidden fees.

3. 24x7 monitoring and support

The cloud integrated hosting solution includes architecture design, cloud migration, and subsequent hosting: a professional team manages the server round the clock, and provides a 24x7 local trilingual technical support hotline for instant response.
"After we decided to moving on to a cloud server, we compared cloud tools from different providers on the market. However, it is a tough decision for us considering the technical requirements for integrating different tools, management costs and time derived from it. UD's solution stood out to us. It is customised to fit perfectly to our business needs. UD also provides professional team to look after the system, which truly help us overcome technical challenges."