Event Live Streaming Case Study: Dragon's Delusion Online Premiere
Successfully integrate video broadcasting and live performance for the premiere, bringing seamless & smooth experience to audience
2021-10-18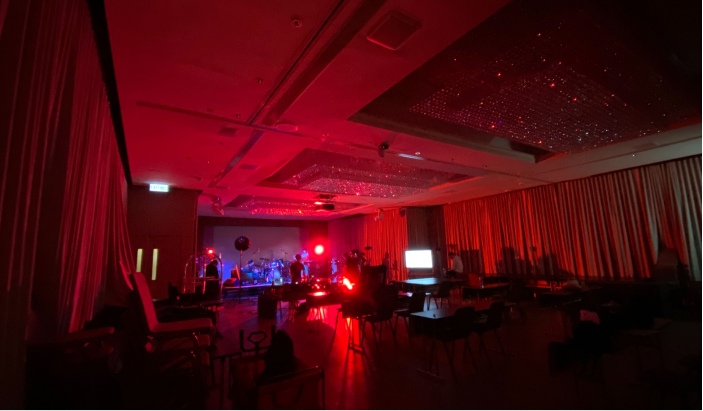 Dreams are precious, the one that is shared amongst enthusiasts is even more meaningful. Two years ago, a crowdfunding project has been launched by a group of passionate creators with a dream of creating made-in-Hong Kong local animation. With much dedicated efforts in animation production, they were finally ready to showcase their masterpiece to 1,600 backers.

However, the pandemic crisis disrupted their plan of hosting a physical live show. Virtual event was the way to go, where they were in face of technical challenges. How did UDomain help them overcome the obstacles and bring their dream to live?
Client Background
Solution
Challenges
The Dragon's Delusion team has originally planned a premiere screening for supporters, which has been postponed for several times due to the pandemic. Eventually, they decided to host an online streaming event instead. However, the team lacks technical experience of live streaming.
There are 2 major parts in the show: 1 ) broadcasting of animation preface, 2) a live performance by the producers of the theme song and interlude of the animation. Looking at a seamless live streaming experience of live performance as well as video broadcasting.
Meanwhile, it is required to limit the audience to crowdfunding backers and paid users so as to protect the exclusive right of the production team and stakeholders.
UD Solution
UDomain live streaming services facilitate the success of the premiere where video broadcasting and live performance has been seamlessly integrated.
UDomain has collaborated with various online ticketing platforms, providing our clients with innovative one-stop services by linking up sales system with live streaming services.
The solution comes with a feature which provide each legitimate audience with a unique link to access the premiere screening on any device of their choice. As a result, the audiences are able to view the live show seamlessly while protecting digital copyrights.
Achievement
Successfully integrate video broadcasting and live performance for the premiere, bringing seamless & smooth experience to audience
Protect the copyright and interest of the production team and stakeholders, setting an example for similar events to come
Identify potential crisis in advance, get contingency plan ready to handle situation
3 Keys to Success
1. Robust network infrastructure to support

Equipped with 100Gb+ local dedicated bandwidth, 30Gb+ China & overseas bandwidth, 300Gb+ international CDN coverage, and China Telecom China Routing CN2, UDomain guarantees stable and smooth live streaming experience across Hong Kong, China and the rest of the world.

2. Efficient professional team with extensive preparation

The premiere screening has been arranged at short notice. UDomain has swiftly secured a fast and stable broadband connection at the venue which is located in a hotel, and got the set up ready for the live streaming event. Meanwhile, contingency plans are prepared to handle possible risk of lacking bandwidth during the event.

3.UDomain fostered collaboration between POPTICKET and Dragon's Delusion

Each viewer is given a unique link through POPTICKET, an event ticket selling platform in Hong Kong. Viewer can access the online theatre for the premiere via the link with any device of their choice. The key feature is that each link can only be played on one device at a time. Even if the link is exposed and distributed to the public, only one device can access the live streaming theatre, thus the exclusive digital copyrights of Dragon's Delusion is well-protected for the production team and stakeholders.
"We have absolutely no idea about the technical aspect of live streaming. Given the limited time to prepare for the show, having a reliable technical partner is important. It has been a pleasure working with UDomain. UDomain professional team helps manage all technical issues, so we can focus on other parts such as guest invitation etc.. We cannot be happier that the online premiere was a success, and the dream of the team and crowdfunding backers is fulfilled."
——Law Man-lok Lawman,
Co-founder of Penguin Lab & Promotion Manager of Dragon's Delusion